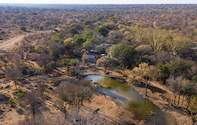 Serondella Lodge is constructed on the banks of a tributary to the Monwana watercourse in a pristine setting in the Thornybush Game Reserve.
Serondella Lodge is situated in Thornybush Game Reserve in Kruger National Park, South Africa. The Thornybush Game Reserve is home to the Big Five, namely Leopard, Elephant, Buffalo, Lion and Rhino. Serondella Lodge is situated along the banks of a tributary to the dry Monwana River.
How to get there
From Johannesburg, take the N4 to Witbank and bypass Middelburg. Turn left off the N4 to Belfast. Proceed to Dullstroom and Lyndenburg and take the R36 to Orighstad and Strijdom Tunnel following the R531/R521 through Hoedspruit to the T-junction. Turn right into Klaserie. After 6 kilometres (3.7 miles) turn left into Argyle Road and follow the Thornybush signboards to Thornybush Game Reserve in South Africa.