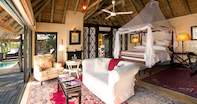 These premier Exceptional Safari Lodges in the Private Game Reserves near Kruger Park offer top quality service, accommodation and activities.
A wildlife safari is on many people's bucket lists so why not treat yourself to a stay at the finest safari lodges in the best private game reserves in the Greater Kruger area.
Special facilities include spas, wine cellars, suites with private pools, gyms and gourmet dining.